Ustaad Bismillah Khan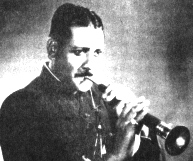 Ustaad Bismillah khan has been acclaimed as one of the country's most respected and popular musicians. An instrumentalist of exceptional capabilities, he has developed a highly individual style and has elevated the Shehnai to its present position in classical music

Born on 21 March 1916 in Dumraon, Ustaad Bismillah Khan learnt playing the Shehnai underUstaad Ali Bux. His first public concert at the tender age of 14 at the Allahbad All India Music Conference brought him widespread acclaim.He has been the recipient of many awards, including the Padma Shri(1961), the Padma Bhushan(1968), the Padma Vibhushan(1980), and the Sangeet Natak Akademi Awards(1956). The Vishwa Bharati University has conferred Honorary Doctorates on him, while the Republic of Iran conferred upon him the title Talar Mausiqee in 1992. He was also elected Fellow of Sangeet Natak Akademi in 1994.
Other artistes...